Psychotherapy & Counseling Videos
Psychotherapy Videos for Teaching, Training, Self-Study, and Continuing Education
We now offer our videos two viewing options:
Streaming:

Easy and convenient to watch anywhere, anytime. Cheaper too!

DVDs

: For those who like to hold a product in their hands.
Individual Customers
Watching therapy in action is an invaluable way to enhance your skills and deepen your work.
Our video collection features the greatest therapists of our time demonstrating techniques and commenting on their work. Watch on DVD, or use our Video Streaming Platform to view our videos instantly and anywhere in the world, again and again.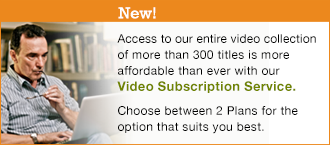 Wondering if streaming is right for you? Read
New to Streaming
to find out how it works.
Institutional Customers
Our collection of videos covers a wide variety of tools and techniques
from a broad selection of psychotherapeutic approaches, making it an ideal training resource for students, interns and all mental-health professionals.
View our
Group License Subscriptions
page for a detailed description of our Video Streaming Platform for Institutions.
"You have by far the highest quality selection of psychotherapy videos I have found anywhere. I have purchased seven so far, and each is an invaluable resource in expanding both my own and my students' skills. I plan on keeping and using these for years to come."
Dante Mancini, PhD
Assistant Professor of Psychology
College of Saint Elizabeth, Morristown, New Jersey